Unearthly encounter of what kind
I have just equipped my new Back Pack with a 60 W amplifier. I load "LION.WAV" in the sound program, connect the notebook with the amplifier from the Back Pack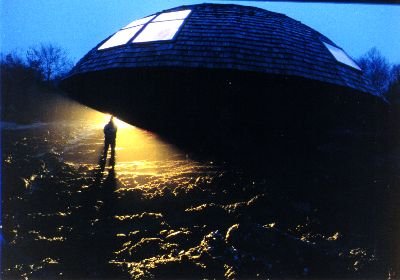 Wulkov near Frankfurt an der Oder. The association Ökospeicher e.V. constructed here the first Domespace house in Germany. I am her to hold a lecture about the GEMINI house tomorrow inside the Domespace.

I approach late in the evening. A member from Ökospeicher e.V. shows me the way to 5 houses near the village where Mr.Schmid lives.

Nobody at home. No light in the 5 houses. It is dark and nobody is here. Only dogs. All the time the dogs are barking. After one hour boredom, I have a great idea:

I have just equipped my new Back Pack with a 60 W amplifier. I load "LION.WAV" in the sound program, connect the notebook with the amplifier from the Back Pack, switch both headlights from the Back Pack on and leave my car.

I point with the headlights to the first dog and release with a click on the track ball a 60 W lion roar. The dog runs away.

An other dog comes and the same again. After a while, a very wonderingly habitant from one of the houses asked me "What are You doing here?"

I was looking like on the photo from the Back Pack with the addition from the two headlights beaming right and left from my head and the luminously notebook display.